Ljubljana is a vibrant capital city with rich history and culture, and a breathtaking architecture. It has many attractions you should visit and there is much to do in Ljubljana every day, even on a rainy day.
What To See and Do in Ljubljana?
Answering what to do in Ljubljana shouldn't be hard since there is infinite possibilities for having fun in the capital. Here is a list of 20 things to do in Ljubljana that will make your stay in the capital of Slovenia unforgettable.
1. Visit Prešeren Square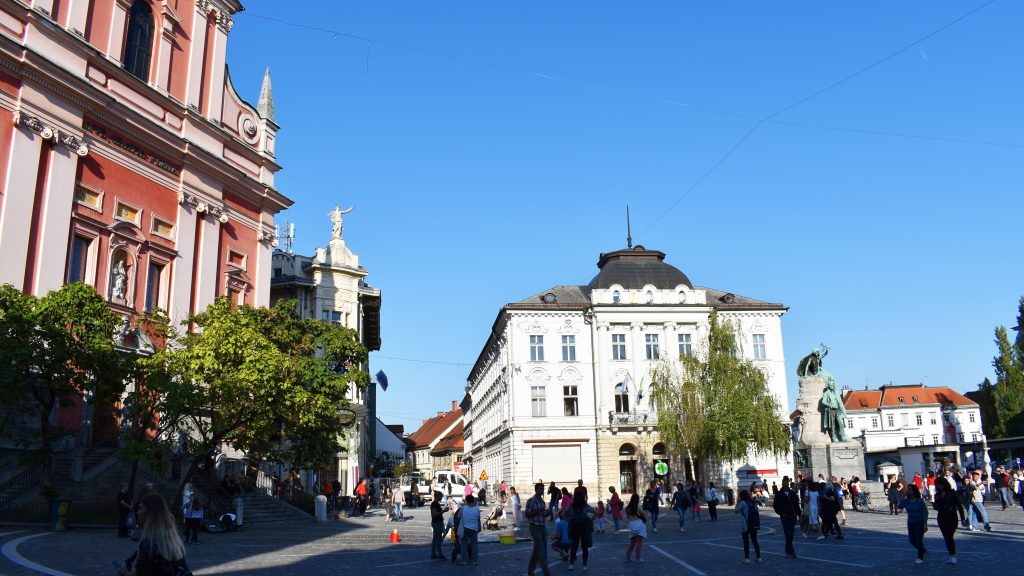 You will come across Prešeren Square right by walking by the Ljubljanica river as this is the place where many of events in Ljubljana take place. It is a square where friends meet up and celebrate. It was named after a Slovenian poet France Prešeren who wrote the poem for Slovenia's national anthem. On the opposite side of the Triple bridge lies the Franciscan Church of the Annunciaition.
2. Take a Ferry Ride on Ljubljanica River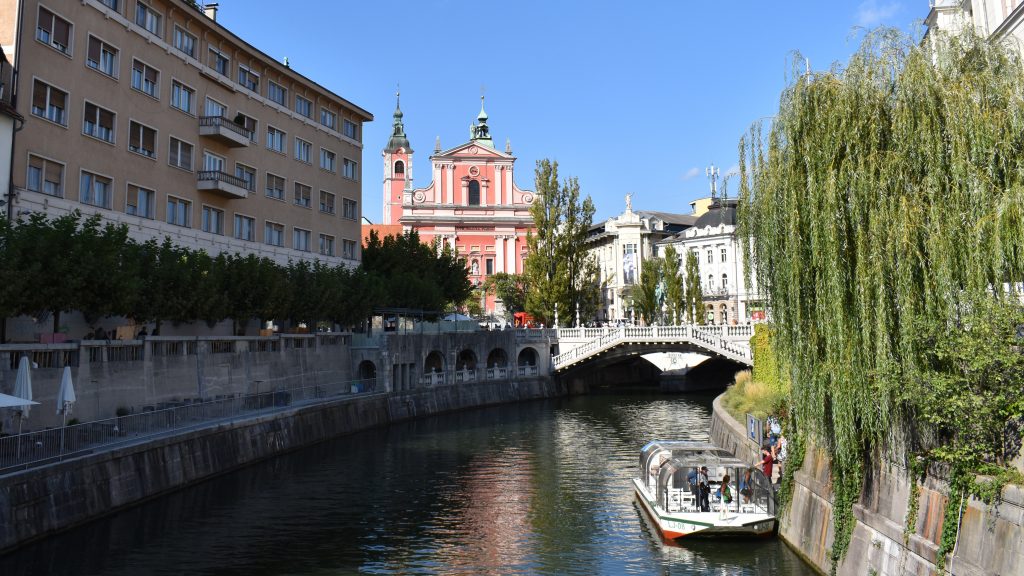 Ljubljana lies on river Ljubljanica which is under Natura 2000 protection. Taking a ferry on river Ljubljanica is probably one of the best ways to appreciate Jože Plečnik's majestic urban design like the Triple Bridge. You can choose either a modern glass-covered vessels or a more traditional boat made of larch and oak. Cruise boat rides usually last about an hour. Another unique way to explore Ljubljana city center is to rent a Standup paddling and SUP on Ljubljanica river.
3. Visit Metelkova City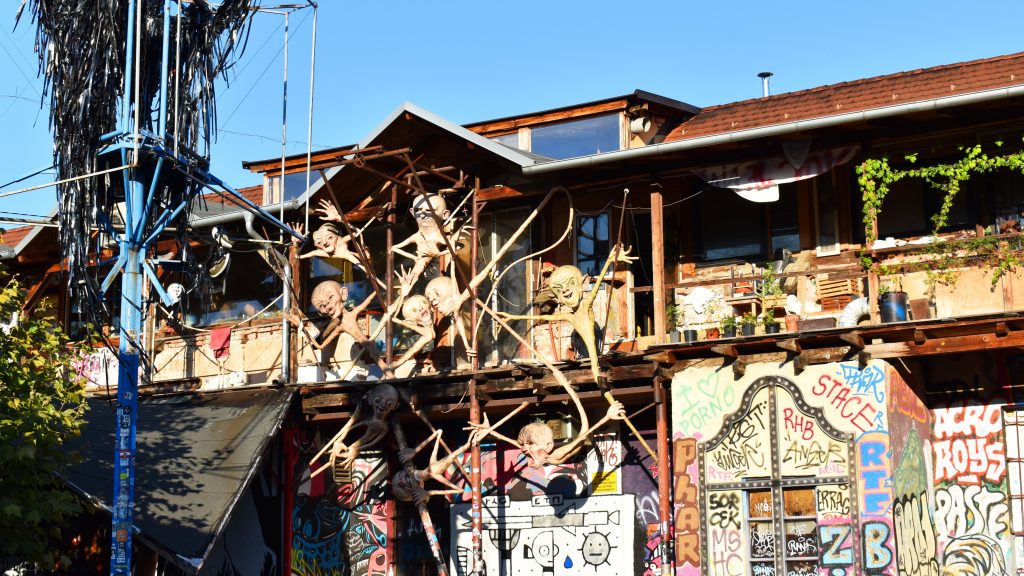 Metelkova is a large space in the center of Ljubljana called "Metelkova City Autonomous Cultural Center" where walls are covered in graffiti and murals. We suggest you visit Metelkova during the day for photos and then return at night when it's full of life. Numerous events also take place at Metelkova including concerts, lectures, and art exhibitions. You can even book a night at the Celica ("Cell") hostel where you will spend the night behind bars. Visitors can select which cell they wish to sleep in since each room has been designed by different international artists.
4. Visit Congress Square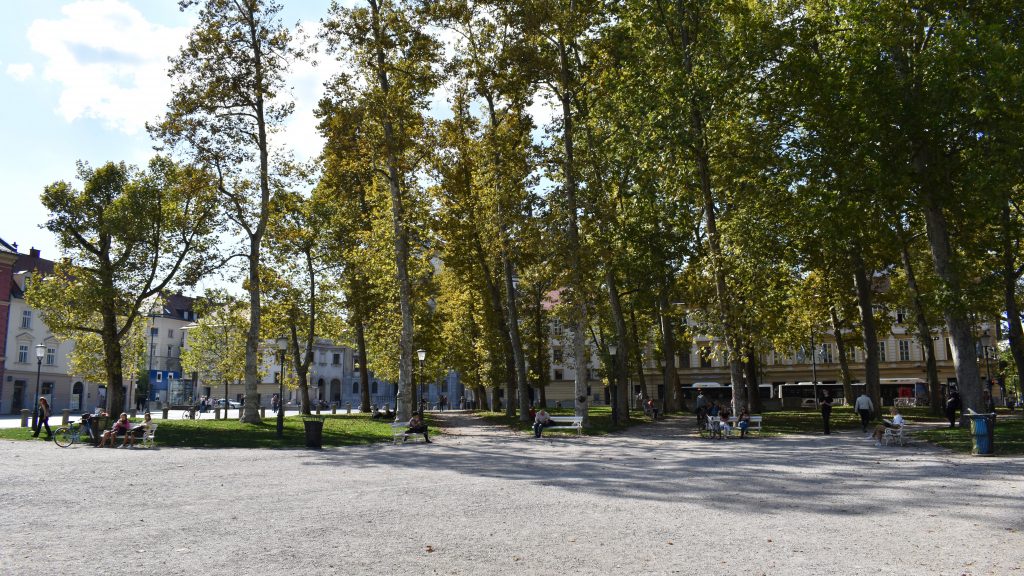 Congress Square is located in the city center, approximately 300 m from Prešeren Square. On the south of the square you can see the headquarters of the University of Ljubljana. Not only that independence from Austria-Hungary was announced here after the first world war, Josip Broz Tito addressed the large crowds from the balcony of the university in 1945. In 1999 Bill Clinton read the first line of the Slovenian National Anthem on Congress Square. At the center of the square is a park called 'Zvezda park' or The star park.
5. Visit 'Odprta kuhna' on Friday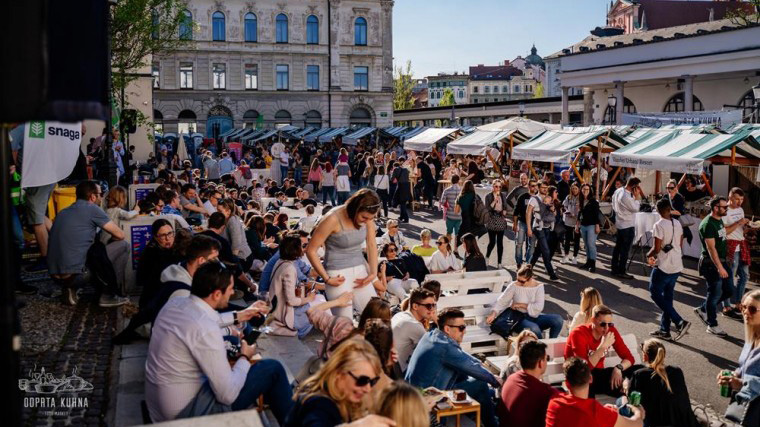 'Odprta kuhna' or the Open Kitchen is a food market where you can try freshly cooked food prepared by different Slovenian chefs right there on the market stalls. It is open on Fridays from March to October and is situated on the market on Pogačarjev trg. It absolutely enriches the culinary scene in Ljubljana, bringing together world cuisine and top chefs. The choice of food is varied and wide and includes different food providers including modern restaurants, tourist farms, independent chefs and traditional gostilnas.
6. Go to Ljubljana Castle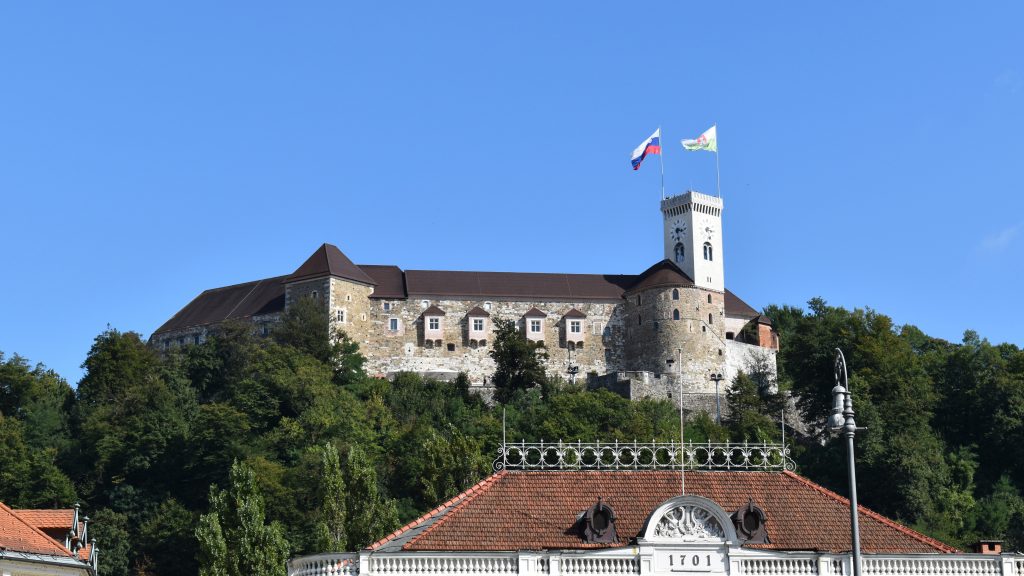 The castle can be seen from many streets and squares in Ljubljana city center and it seems dauntingly high. Nevertheless, you can get up there on foot. If you don't feel like walking you can enjoy a ride with a funicular and take in the views. The castle is more than 900 years old but has changed a lot since then. You can enter the main courtyard for free as it offers a café, nightclub, restaurant, and galleries.
7. Drink Slovenian Wine in the City Center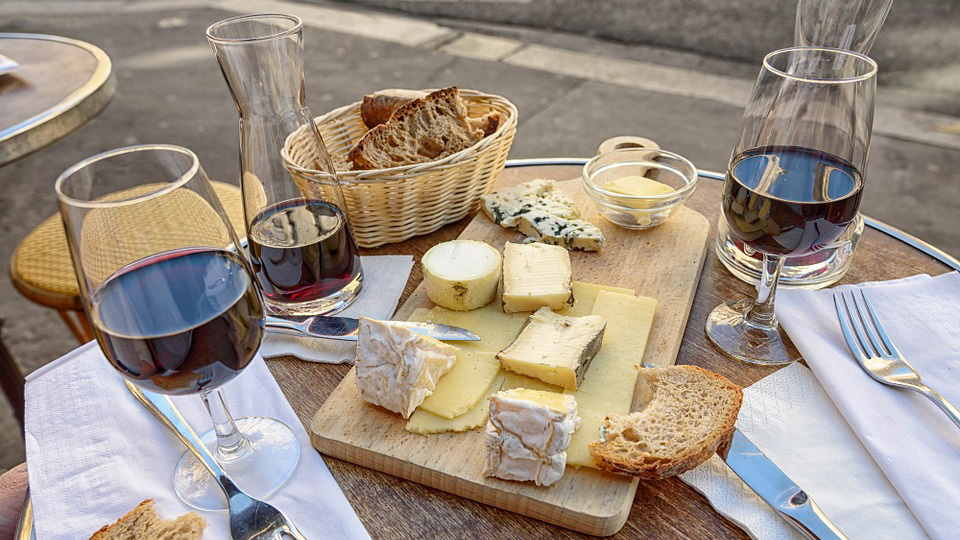 In case you fancy a romantic evening in the center of Ljubljana you might want to give a chance to Slovenian wine. One of the best places to taste the wine is Wine Bar Šuklje where you can taste more than 300 different wines from Slovenia and around the world. Wine cart changes every month and therefore winetasting never gets old! Additionally, you can buy all Slovenian wines offered to take home as a special and unique gift.
8. Visit Ljubljana Beach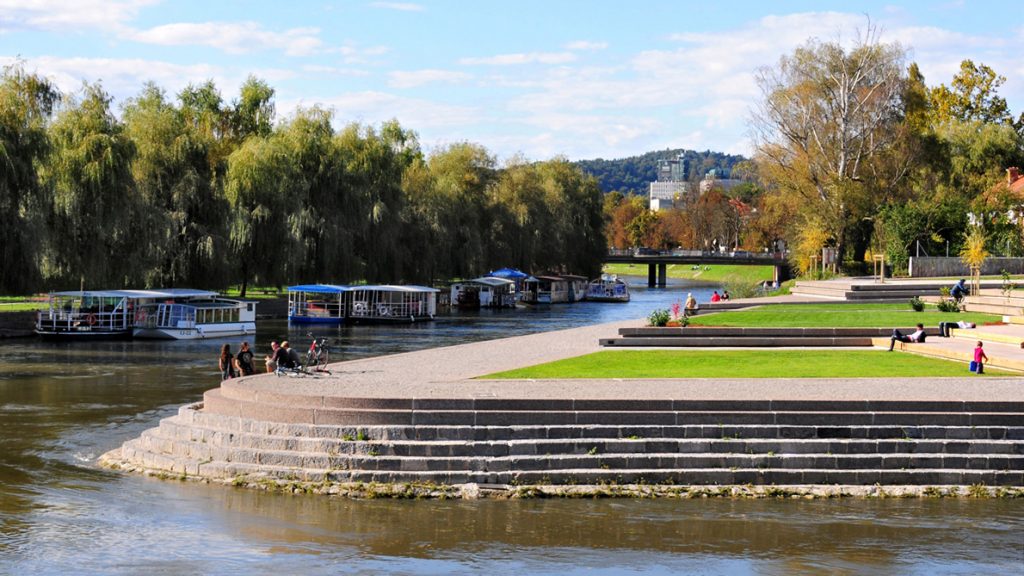 It might get unbelievably hot during summer in Ljubljana and honestly, there's nothing nicer on a sunny day than heading to the Ljubljana beach or 'Špica'. But be warned, due to the Ljubljanica River pollution no one is swimming in the river anymore. Instead you can enjoy a cold drink and make a picnic.
9. Take a selfie with the Dragon on Dragon Bridge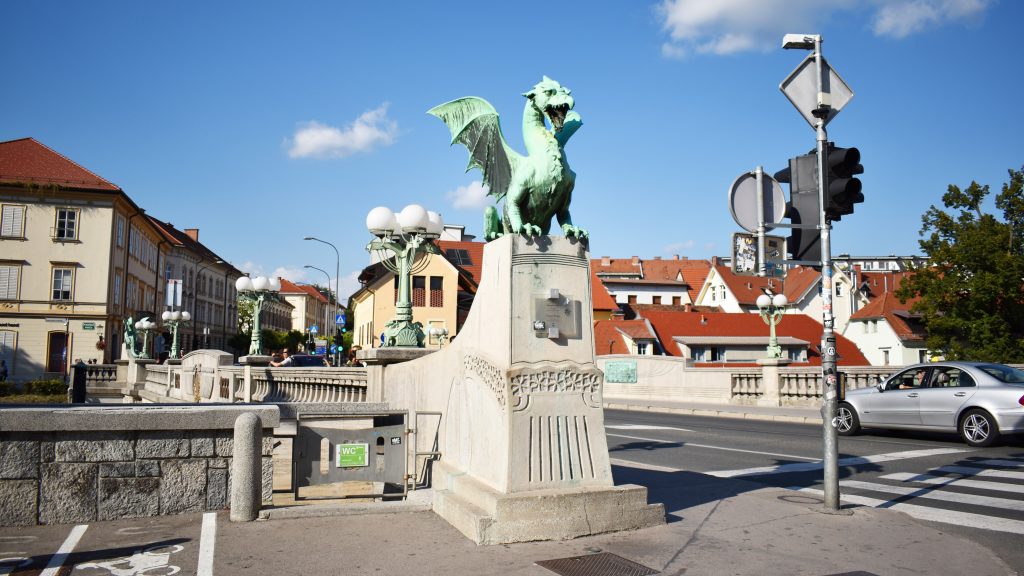 You will probably stroll along the Dragon Bridge while walking next to Ljubljanica river. It's easy to recognize it with the four intimidating dragons on each corner of this bridge. Dragon is the symbol of the capital of Slovenia and has wings spread and teeth bared. According to local legends Jason, who was the founder of Ljubljana, killed a dragon.
10. Have a Drink on the Skyscraper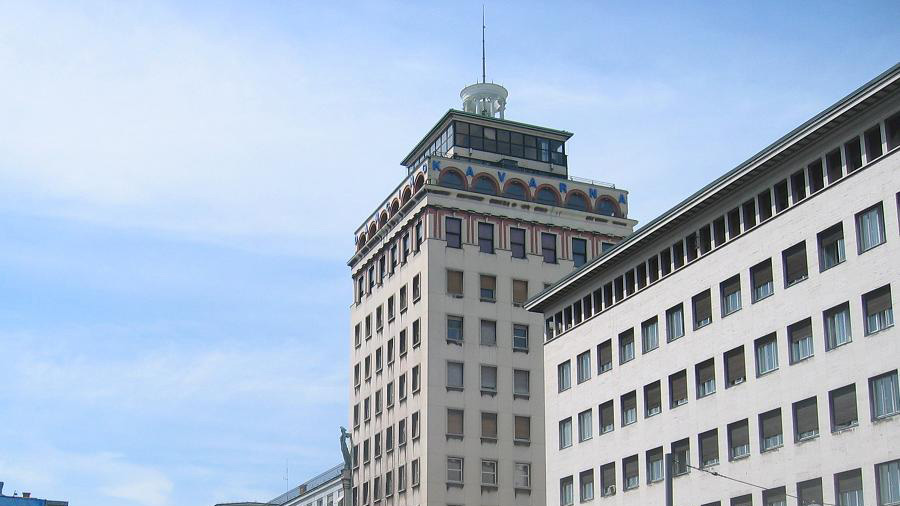 Skyscraper or 'Nebotičnik' is one of the few Ljubljana's skyscrapers and was built in 1933. With its thirteen storeys it was at the time one of the tallest buildings in Europe. Today Nebotičnik gives you a wonderful and complete view of Ljubljana – you can even see mountains like Šmarna Gora and Ljubljana Castle.
11. Visit Tivoli Park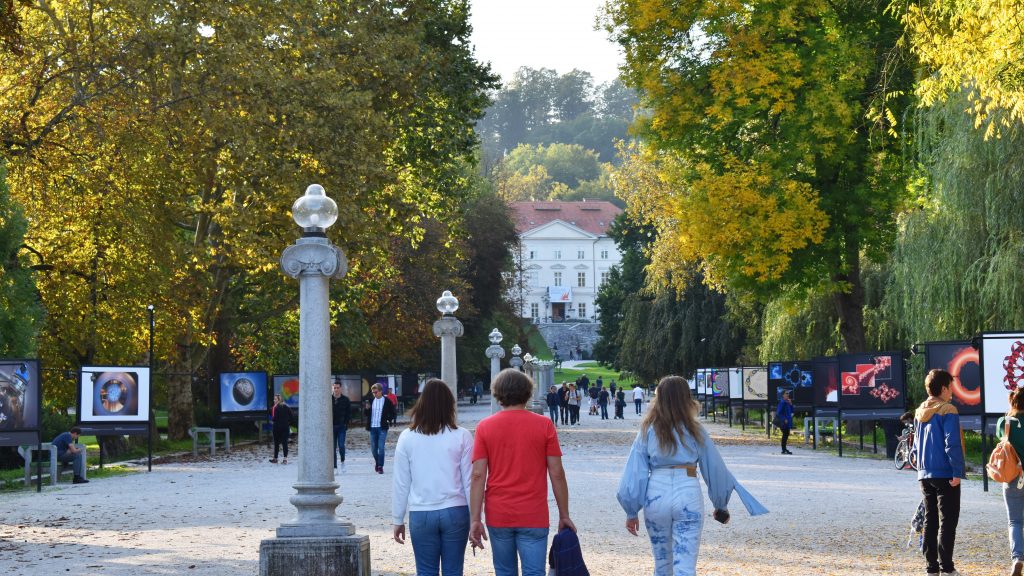 One of the best things about Ljubljana is that only a few streets away from Ljubljanica river you can be in a green space called Tivoli Park. In Tivoli you can find elegant gardens and avenues, the Contemporary History Museum, a tropical greenhouse, Neoclassical Tivoli Castle, and the Jakopič Promenade. This is Ljubljana's largest and most beautiful park, designed in the beginning of the 19th century and worth a stroll.
12. Visit the National Gallery of Slovenia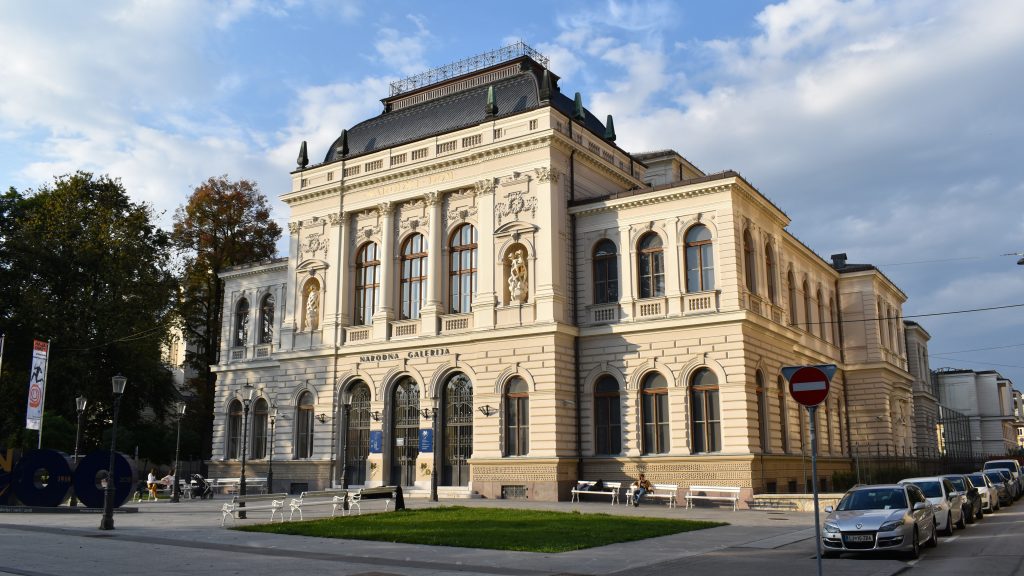 Slovenian National Gallery is fronting Tivoli Park and is a historical art museum, featuring art works from medieval times to 1900s. iIn the gallery, you should look for art by Slovenian impressionists like Ivan Grohar, Matija Jama, and Rihatd Jakopič. You shouldn't miss the Fountain of Three Carniolan Rivers designed by the famous Francesco Robba.
13. Visit Ljubljana Cathedral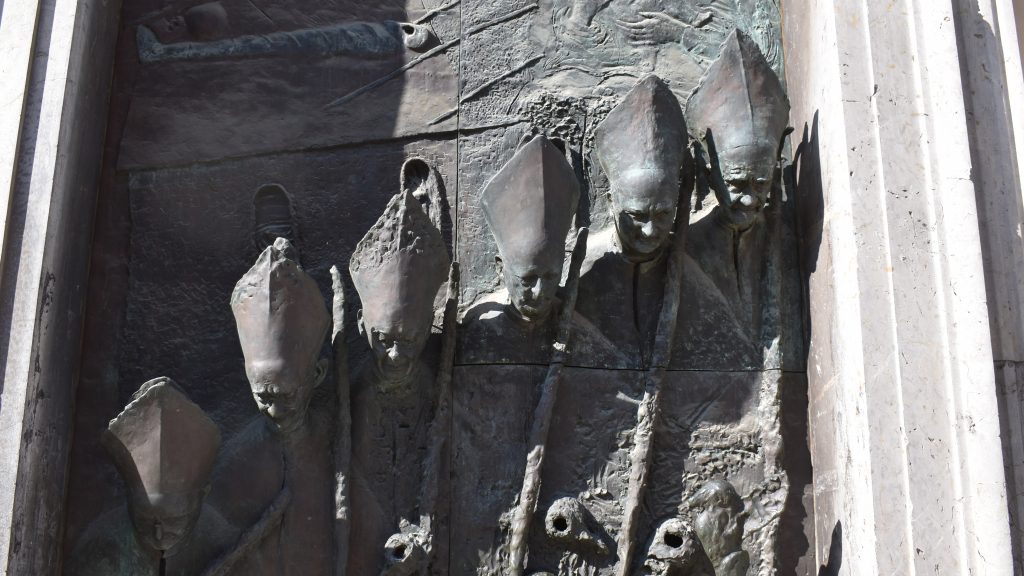 Ljubljana Cathedral had many different forms since it was built in the 13th century but the current design is originating in Baroque in the beginning of the 18th century. You should definitely take a look inside as there are many breathtaking frescoes, sculptures and paintings from the 18th century. Don't forget to check out the dome fresco and the main portal door both designed by Slovenian artists.
14. Go to Koseze Pond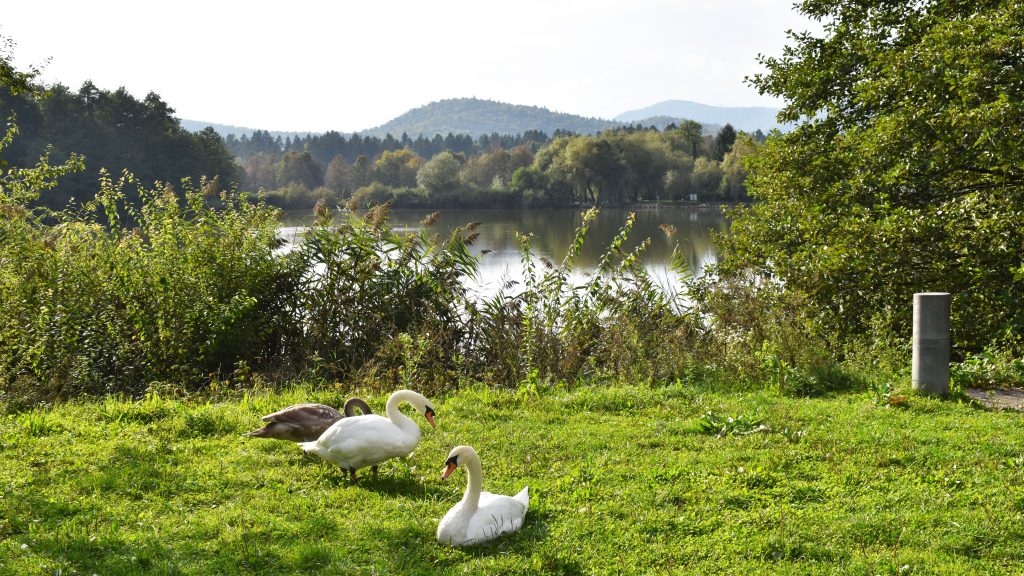 Koseze Pond is situated on the edge of Ljubljana and is a small artificial lake but very important as it provides natural habitat for many rare and endangered plants and animals. You can take a stroll on the walking paths with benches which surround the pond and kids can play on the playground. In the winter Koseze Pond is a popular natural ice rink!
15. Go Shopping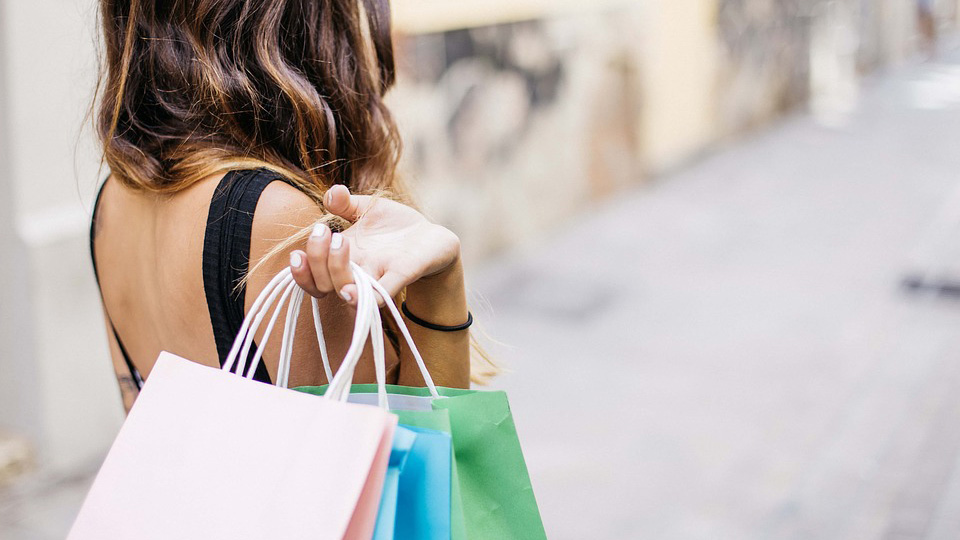 The best place for shopping in Ljubljana is probably city center where you can buy interesting souvenirs or shop for fashion products. However, all over the Ljubljana you can find a lot of shops and shopping centers.
16. Rent a Bike Like a Local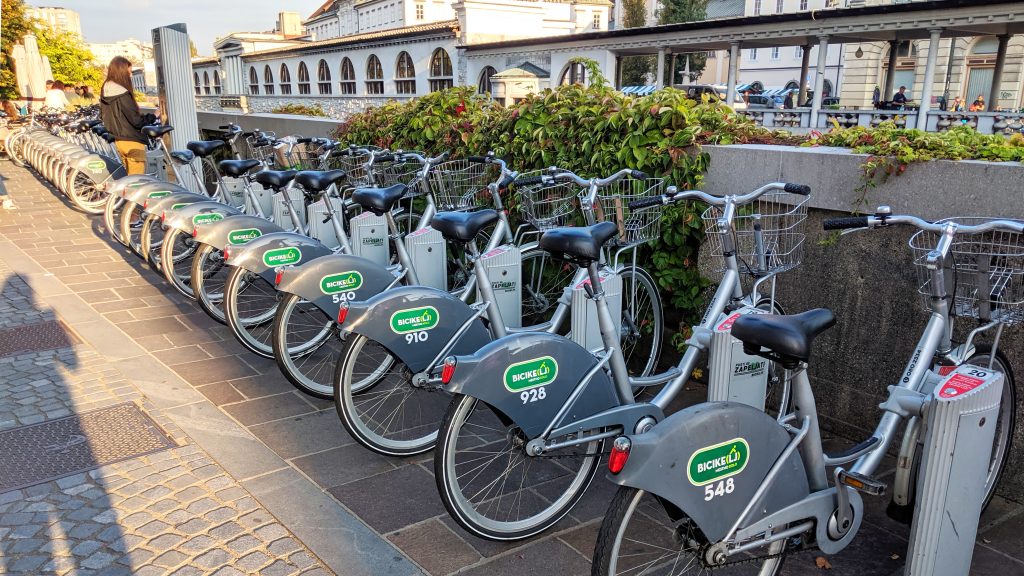 Ljubljana is becoming one of the European best cities to see on a bike. Many parts of the city center are traffic-free so that's another good reason to hire a bike. You can find your bike in the Slovenian tourist information center on Krekov Square opposite to the castle funicular. Another option is to use BicikeLJ which is a free bike hire scheme. There are currently 51 BicikeLJ stations around the city and for a weekly subscription you pay only 1 Euro.
17. Go for a Drink on the River Bank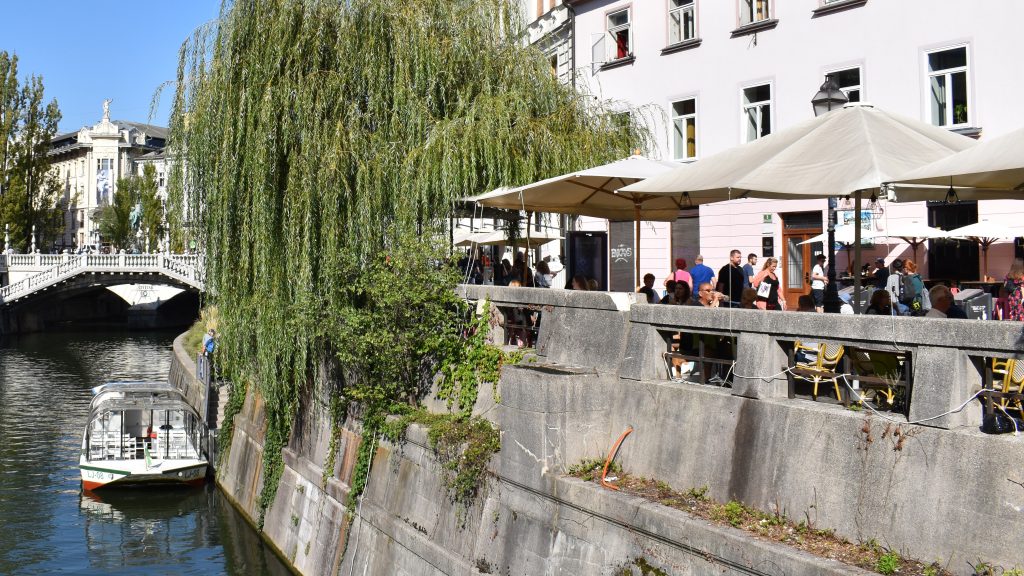 There are numerous cafés on the river bank of Ljubljanica with great views of the river. Cafés are a great way to start a day with a cup of coffee or finish it off with a glass of wine or a coctail. River banks of Ljubljanica are most vibrant in the evenings when people meet up and chat. If you're visiting Ljubljana in December or during Christmas time make sure to stop for a hot cup of mulled wine as the riverbanks are especcially charming and festive in this time of the year.
18. Take a Look at National and University Library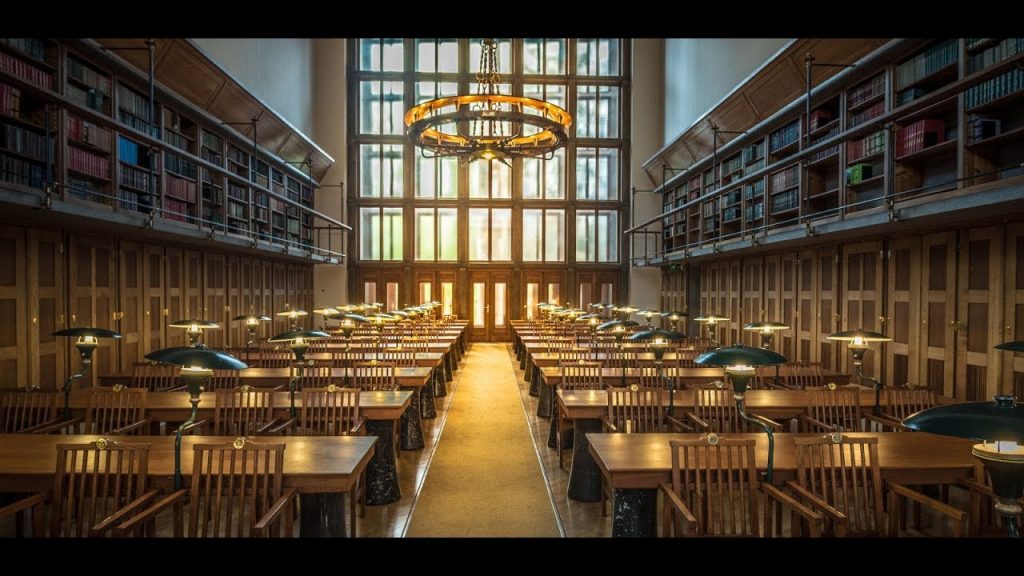 The National and University Library was built in 1774 but moved to its current location only in 1941. Today you can find it near Congress Square. The building was designed and created by Jože Plečnik and many say it is one of his best works. If you take a look at the distinguished façade you can see stone and brick from some old demolished houses. It is a place of collected and preserved written heritage of Slovenia and contains almost three million books of Slovenian and foreign origin.
19. Visit Central Market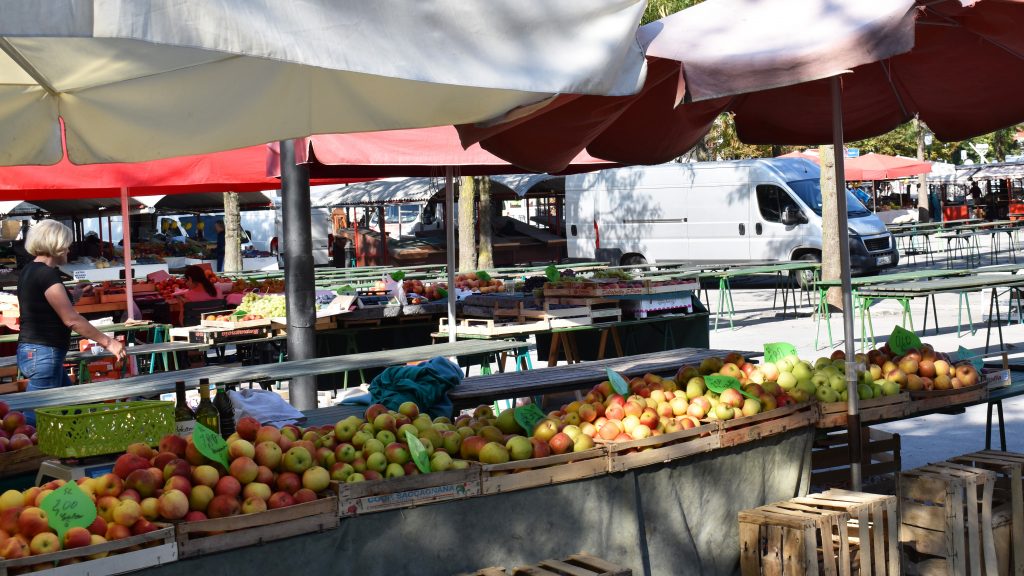 Central Market is another monument designed by Jože Plečnik and is absolutely one of the most vibrant parts of Ljubljana. It originally consists of three parts; in the first part you can find butchers and sellers of traditional Slovenian products, such as bread, cheese and pumpkin oil. The second part hosts stands full of fresh fruit, vegetables, and flowers, while the third part is the fish market and you can find it on Ljubljanica riverbank.
20. Eat Like a Local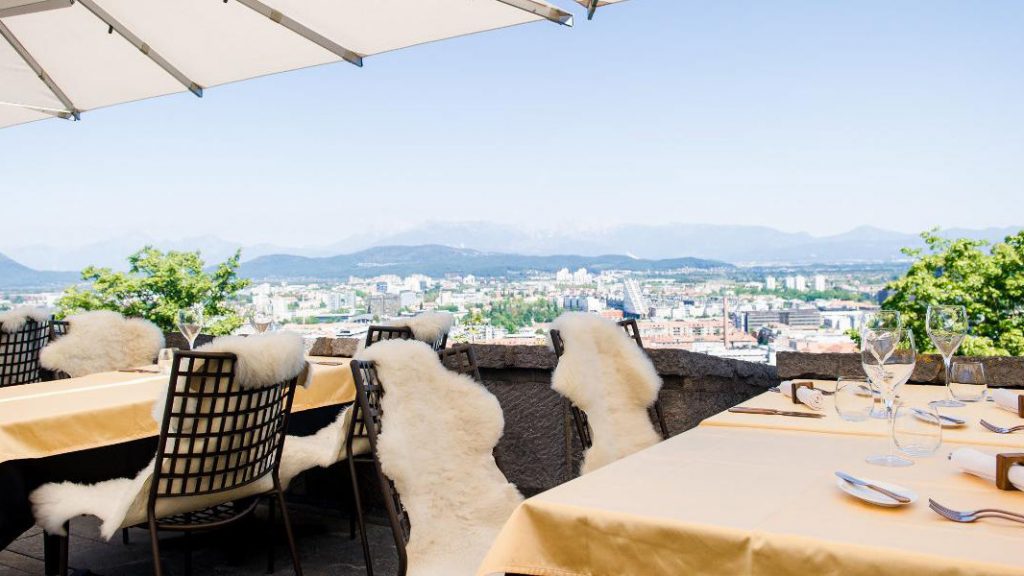 Štruklji is one of the tasteful Slovenian dishes which is a kind of dough, rolled up and filled with sweet fillings like apple or you can even try savoury ones like cheese or walnuts. Among some other traditional dishes are buckwheat porridge (ajdovi žganci) and potica. Potica is traditionally eaten during Christmas time and Easter Holidays. If you wish to immerse in the city cuisine make sure to visit one of the best Slovenian restaurants in Ljubljana.