Eastern Slovenia is rich with thermal water and visiting at least one thermal spa and wellness in Slovenia is must-do. We visited what is arguably one of the best thermal spa resorts in Slovenia and had a great time. Find out about Terme Olimia Wellness and Spa.
Location
Thermal spa Olimia is located in a small town Olimje in the eastern Slovenia. Olimje is known for three things: deer farm Jelenov Greben, Olimje Castle with an old pharmacy and thermal spa Olimia.
Find Terme Olimia on Google Maps »
Accommodation
Olimia Spa resembles a thermal spa resort, offering different options for accommodation. You can stay either in hotel, aparthotel, apartment or camp village. Let's break it down.
1. Hotel Sotelia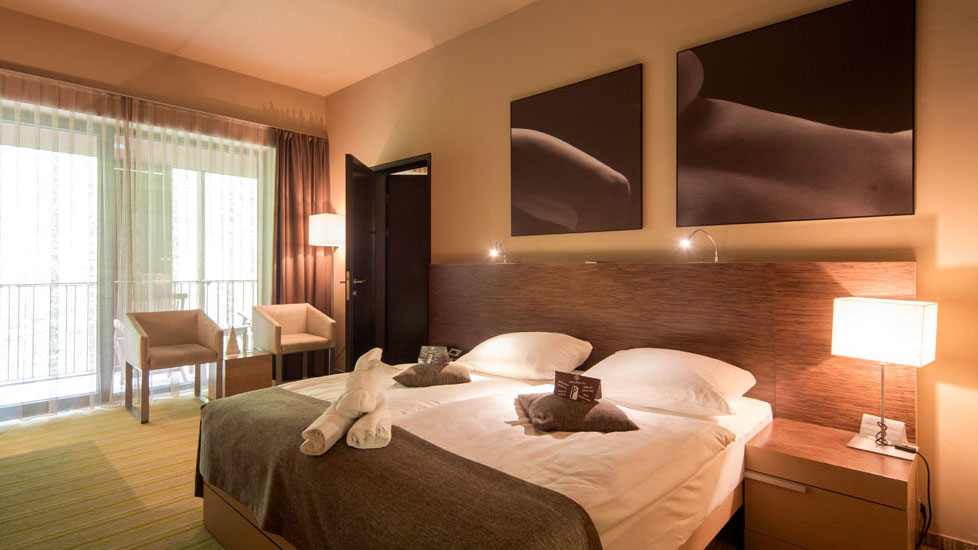 During our stay in Olimje we stayed in this hotel. Four star hotel Sotelia is the most prestigious accommodation on site. The rooms are big, new and comfy. Inside the room was bottle of water and fresh apples waiting for us. On the downside I would mention the piece of wood wrapped like a chocolate and put on my pillow like a chocolate. It is definitely not the thing that would ruin the experience, but imagine my surprise of discovering a piece of wood after I set my mind on eating delicious chocolate.
We had half board and the food was amazing and organic. The breakfast had endless options; the only thing we missed was freshly squeezed juice for breakfast instead of the store bought juice. The dinner was self-served and there were more than 15 options for main dish, including gluten-free and vegan dishes. What we liked the most was, a great choice of dishes and friendly staff. Our only complaint was that all the drink at the dinner costed extra. They could at least give us free tap water instead of one from the bottle. But in general food was seasonal and delicious.
2. Hotel Breza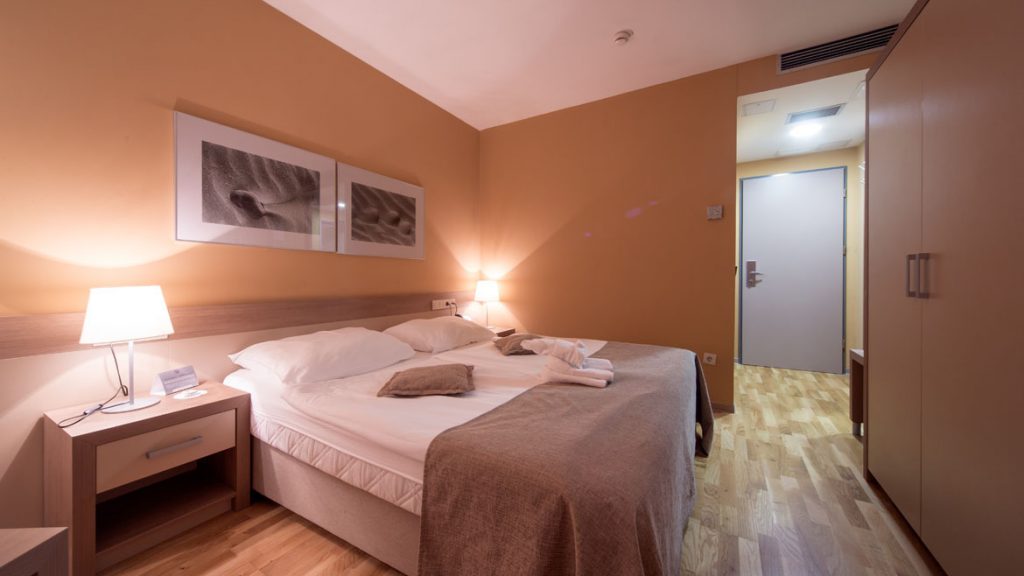 Hotel Breza is also a four star hotel although a bit older than the previous one. However, rooms are renovated, comfy and quite cheaper. Part of the hotel is dedicated to Health Center, where you can join the program of your choice.
3. Aparthotel Rosa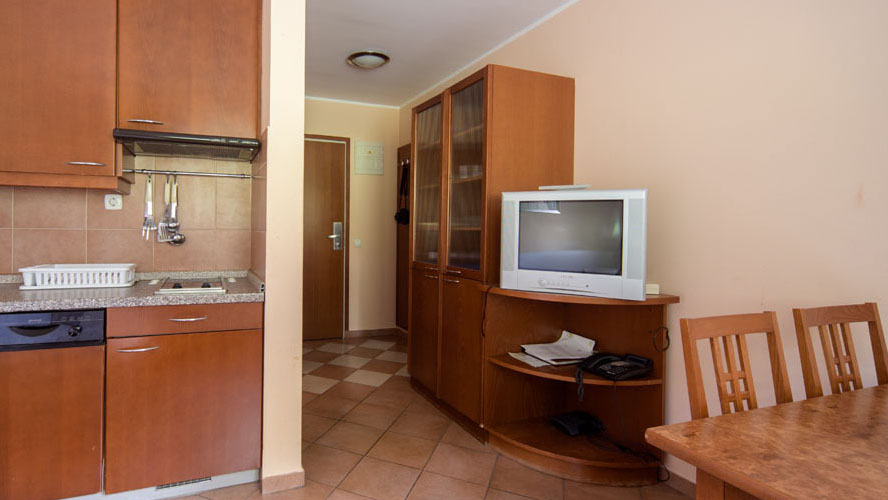 Aparthotel Rosa has four stars and is suitable for families. The apartment is well equipped, although the furniture is not as new as in previous hotels. As well as hotel Sotelia and hotel Breza, there is an underground connection between the hotel and the wellness with pools.
4. Apartment Village Lipa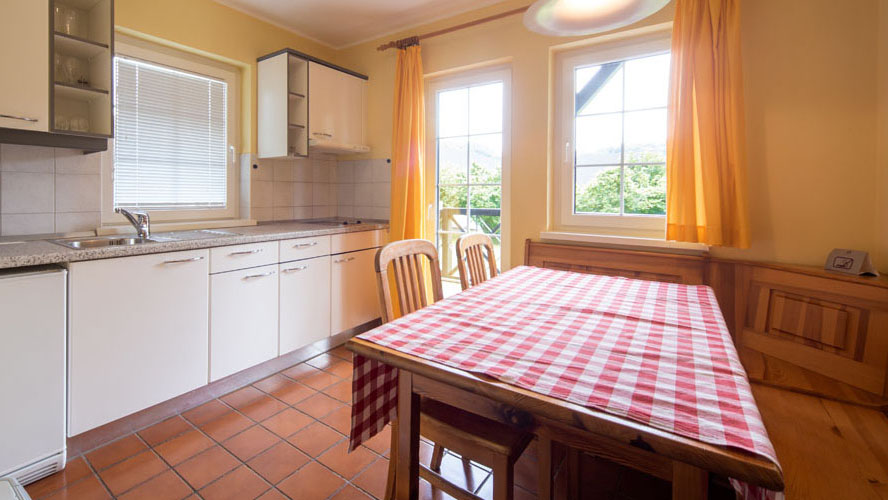 Apartment Village Lipa is located 200 meters from thermal spa Olimia. The kitchen is well equipped and the nearest shop is close by. Make sure to check opening hours though.
5. Campsite Natura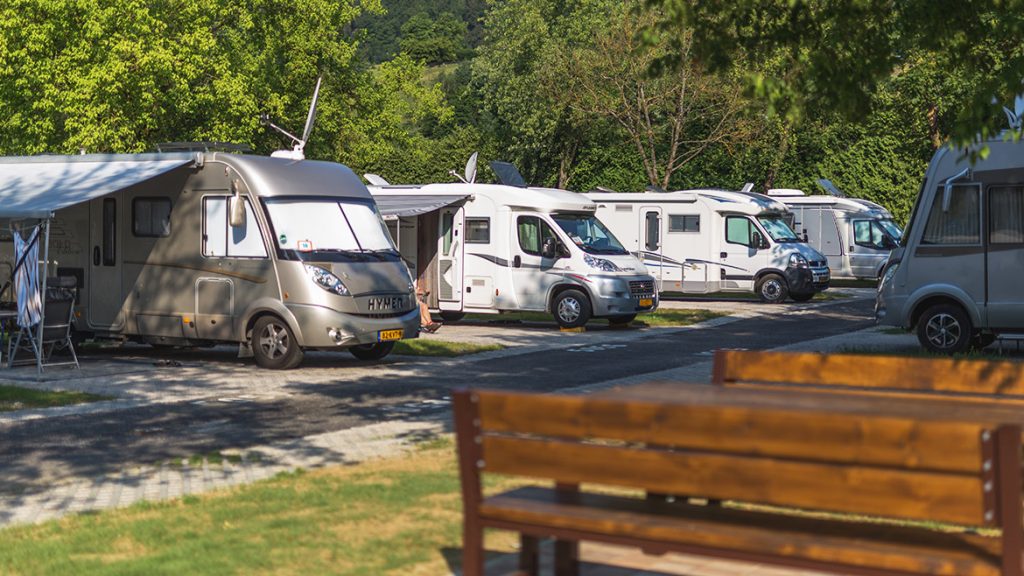 Campsite Natura is a five star camp opened from the end of April to the beginning of October. It has 50 regulated camping pitches and several modern holiday cottages.
Termalija vs Orhidelija Wellness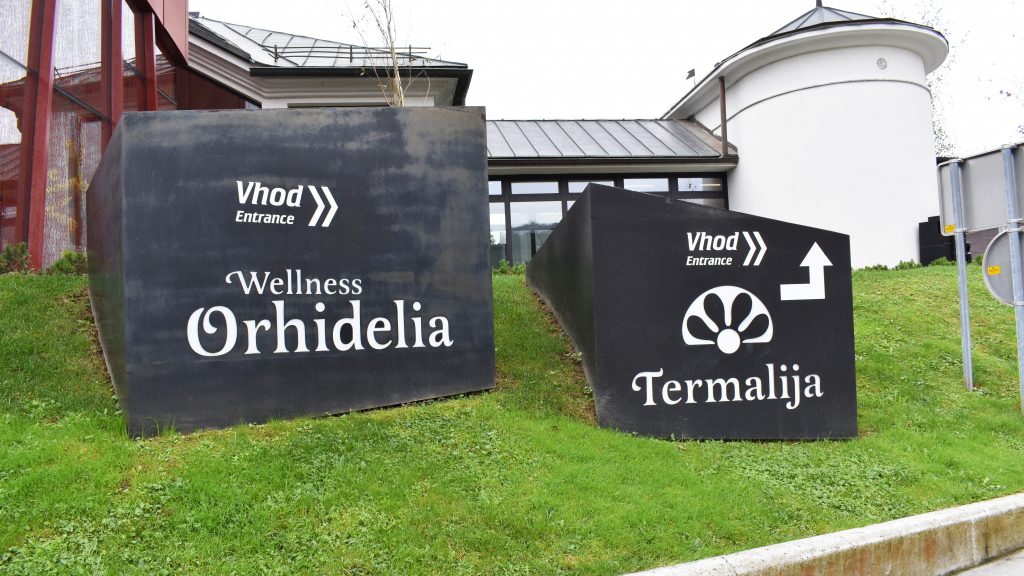 In Olimje you can find two wellnesses, Orhidelia Wellness and Termalija Wellness. In addition, there is a Spa Armonia where they offer massages and different beauty programs and Aqualuna Water Park for kids.
1. Orhidelia Wellness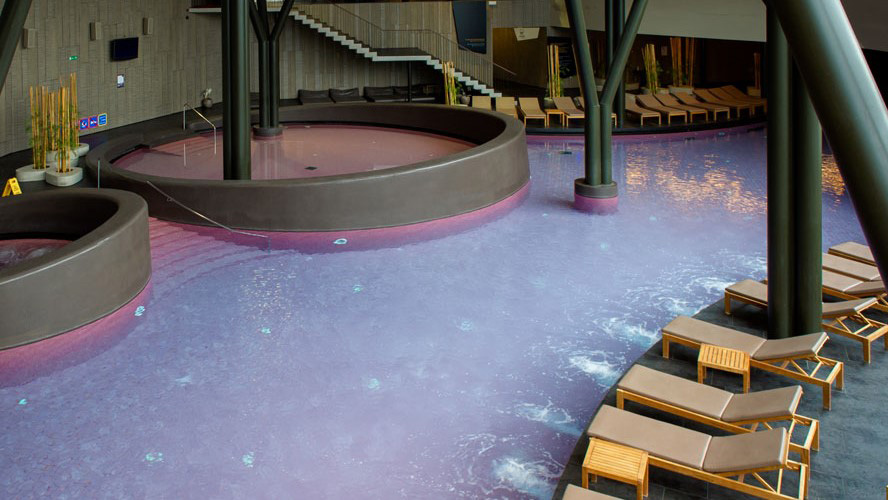 Orhidelia Wellness is a where we spent most of our time. The wellness is brand new and includes indoor and outdoor pools and sauna center. Children under 15 are not allowed in the Orhidelia Wellness making it very peaceful and private. We loved the pink color of the pools. Especially outdoor jacuzzi looks magical in the evening. On Fridays between 10 pm until the midnight Orhidelia becomes nudist wellness. There is a bar and restaurant inside the pool area, offering selection of dishes and drinks. Drinks were quite nice; however, we liked more the lunch in the restaurant outside the pool area.
Saunas are nice and there is a rich sauna program in the weekends. However, once they throw us out of finish sauna because they had to start the program so it has its downsides. You can choose between different saunas, cold bath and a jacuzzi. The ambience could be more private, especially during the day, since all the entrances to saunas are facing a big window door to the sauna terrace.
2. Termalija Wellness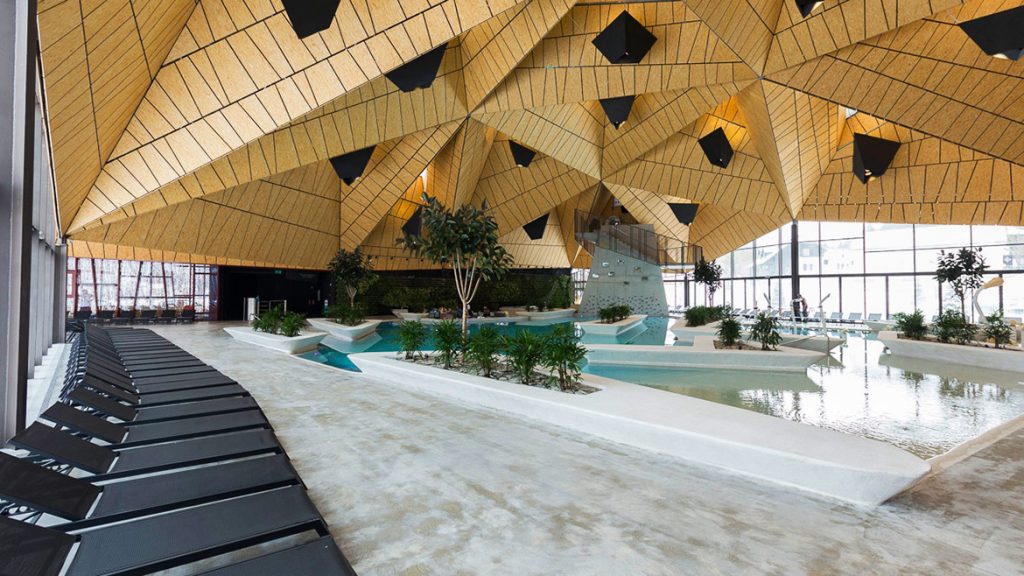 Termalija Wellness is a place to visit with kids. In contrast to Orhidelia, pools in Termalija are in color blue. The wellness also has many saunas, much more than Orhidelia, however, they are a bit more crowded. Outside poll has a lazy river and
In conclusion, wellness Termalija is a great place to visit with kids and to have some water fun. However, if you want more peaceful and private experience you might want to book wellness Orhidelia.
3. Aqualuna Water Park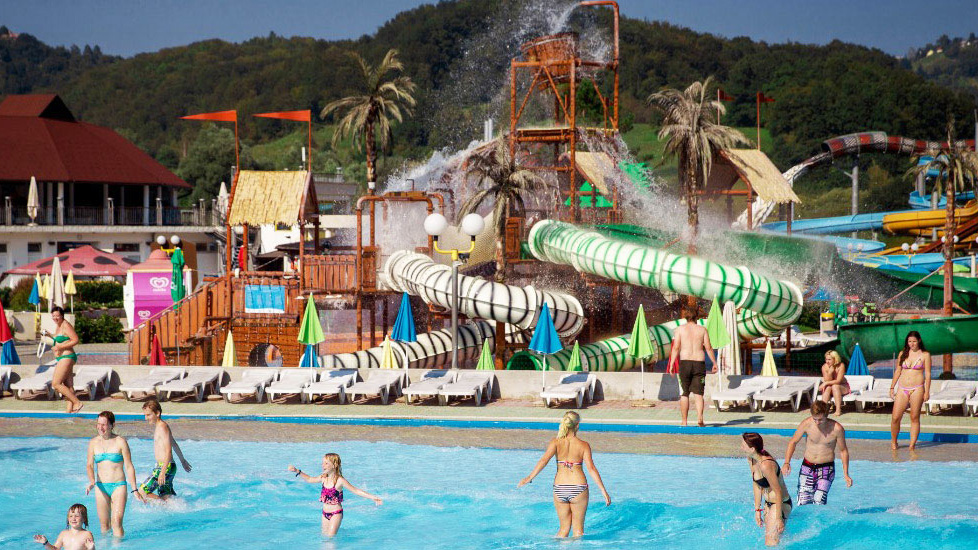 Aqualuna Water Park has wave pools, water slides, trails for speed downhill and wild turns for some kids fun. It is outdoor pool so it is opened only during the warm months so we did not have a chance to visit it, however, we are definitely coming back, because it looks amazing.
Best time to Visit Terme Olimia
Terme Olimia are great all-year-round. If you are planning on visiting outdoor Thermal Park Aqualuna you should do it in the summer months, while it is warm outside and the park is opened. Termalija and Orhidelia have outdoor pools too.
Autumn is very popular time to visit. Swimming in warm water while it is getting cold outside is a great experience. However, it can get a bit more crowded during the rainy weekends. Nevertheless, weekends bring more program to the wellness and there is enough space for all the visitors.
Winter is also a very popular time to visit Terme Olimia. Especially during holiday season from mid December to January. During the winter the surrounding turns into winter wonderland for even more magical experience. Make sure to use outdoor jacuzzi for ultimate fun.
Spring's season depends on the weather. It is a great option to spend a rainy day, or just relax away from the stress any day.
What To Do in Olimje?
Despite being a small town there is a lot to do near Olimje.
1. Visit Deer Farm Jelenov Greben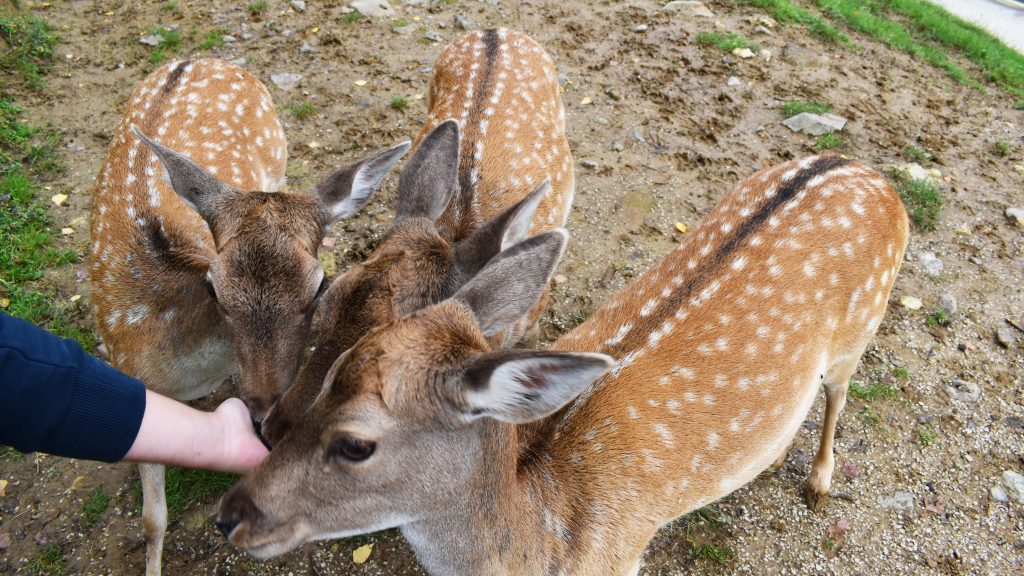 Not far from Terme Olimia is a deer and muflon farm, where you can feed and observe the animals. You can also have a traditional meal and buy some homemade products.
2. Play Golf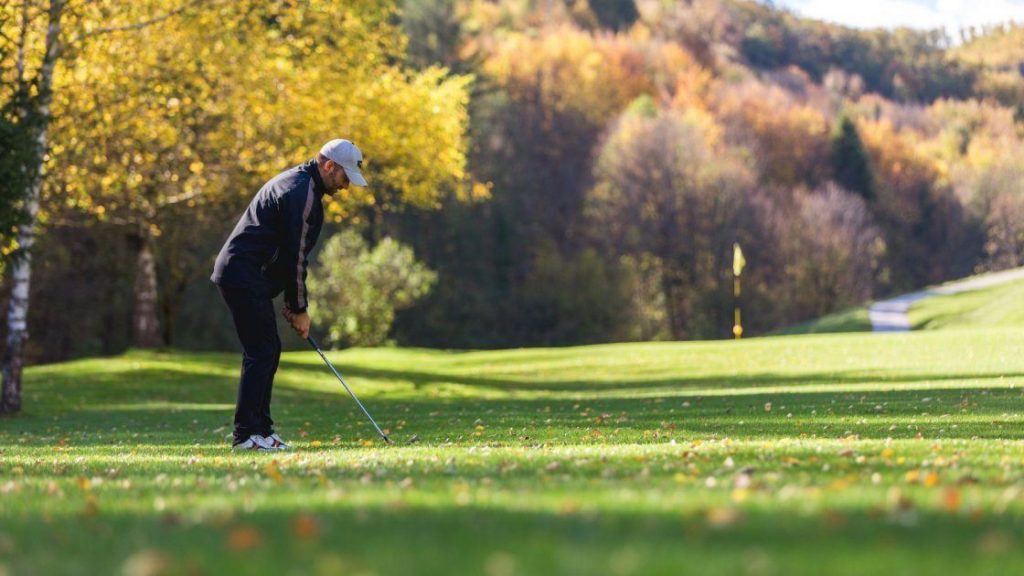 Between the green nature of Oliimje is located golf course Amon. The golf is opend during the summer months and in spring and autumn, depending on weather.
3. Visit Olimje Monastery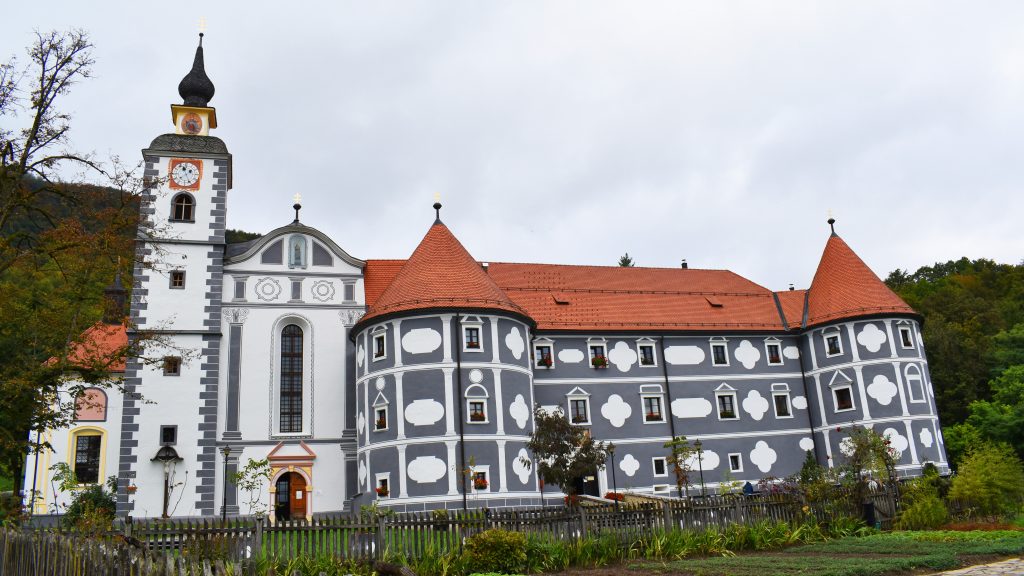 Olimje Monastery was built as a castle in 11th century. Today it is a Minorite monastery most known for its pharmacy, which was one of the first in Europe. Today they offer homemade herbal infusions and other remedies, produced in the traditional way.
4. Get Sweet at Chocolate Boutique Olimje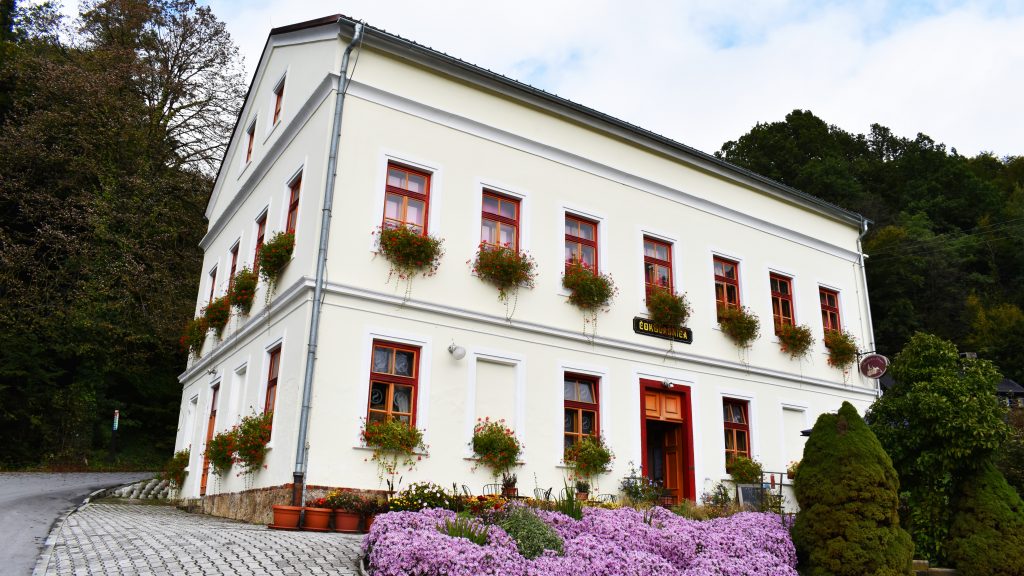 In the Chocolate boutique Olimje, they produce small chocolates made of different ingredients. You can buy and try different flavors of chocolate.